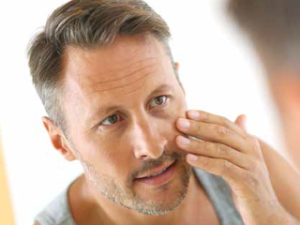 In our ever-changing world, things that were once "for women" are becoming increasingly accepted as being "for men, too." Whether that's pedicures and manicures that were brought to the forefront during the metrosexual days, and the current crop of men's hygiene products that extend far beyond deodorant, men are learning that it's ok to take care of yourself.
This exploration has finally begun to extend to the world of plastic surgery. While there is nothing that will replace healthy eating and exercise, plastic surgery can help men feel and look better.
So, what can plastic surgery do for you?
Blepharoplasty (Eyelid Rejuvenation)
As men get older, their eyes will see that wear. Loose skin, brows that hang over the upper eyelids, and bulging fat pads below the eyelids with overemphasized tear ducts will make men look tired. Are your friends and colleagues asking you if you're tired? It might be time for an eyelid rejuvenation.
Rhinoplasty and Facial Contouring
Do you find  your nose too big? Is it shaped oddly? A plastic surgeon can perform a facial analysis and find out the best way to have your nose match up with the rest of your face. This in conjunction with a facial contouring can give you that facial harmony that you've been looking for. A strong chin, and a well proportioned nose can help give you the confidence that you need.
Liposuction
Remember when Dad Bod was a thing? Well, it's still a thing, but it might not be the look you're going for. If you're already on a diet and exercise regimen, liposuction might be something that can help with the next step. Remember, this is a contouring tool, not a weight loss tool. If you've done the work, and some pieces are still "floating around," this might be what you need to get over the hump.
Gynecomastia (Male Breast Reduction)
Sometimes it's because of weight we put on. Sometimes it's just the way our body is made. Some men have more pronounced breasts, which can cause a very feminizing effect on the male chest. A very disturbing condition for any man, it's definitely something to speak to your plastic surgeon about.

Injectables
Botox®, Filler, & Belkyra
BOTOX® Cosmetic is the only approved treatment to temporarily improve the appearance of both moderate to severe frown lines between the brows and crow's feet lines in adults. BOTOX® Cosmetic targets one of the underlying causes of frown lines and crow's feet—the repeated muscle contractions from frowning and squinting over the years. Your specialist will inject these muscles with BOTOX® Cosmetic to temporarily reduce muscle activity. You will begin to notice a visible smoothing of your crow's feet lines and frown lines between your brows.
JUVÉDERM® is a family of facial fillers used by your cosmetic doctor to refresh your appearance by smoothing away unwanted lines and bringing back the natural contours of your face. It's clinically proven to last up to 1 or 2 years, depending on which product your doctor recommends. Best of all, you can see visible, natural-looking results instantly after your treatment, so you can enjoy your revitalized look right away.
Belkyra Injectable is an FDA and Health Canada approved safe injectable substance that is used to reduce and potentially eliminate fat under the chin.  The goal is a non-surgical and non-invasive removal of the double chin – bringing back the jawline of years gone by.