Facial Aesthetics
Face Lifts
In time, gravity, sun exposure and the stresses of daily life take their toll on our face. Deep creases appear beside the mouth, the jaw line slackens, and folds and fat deposits appear on the neck. Facelifts counteract these problems by removing fat and tightening skin and muscles, giving your face a fresher, more youthful look. Facelifts are often combined with other procedures including brow lift, eyelid surgery and laser skin resurfacing treatments.
Brow Lift
Brow lifts can address one of the earliest signs of aging – the drooping and sagging of the eyebrow. The technique ranges from a full foreheadplasty, designed to elevate the entire forehead, to a temporal brow lift, meant to correct drooping of the outer half of the brow. These procedures are done under local anesthesia with sedation, and are often combined with eyelid surgery, laser skin tightening and skin resurfacing.
Eyelid Lift
Blepharoplasty can rejuvenate puffy, sagging or tired-looking eyes by removing excess fat, skin and muscle from the upper and lower eyelids. Blepharoplasty is often combined with laser skin resurfacing procedures, facial volume restoration and BOTOX Cosmetic® treatments. The combination raises the eyebrows and reduces the appearance of wrinkles, crow's feet or dark circles under the eyes.
Rhinoplasty
A rhinoplasty is a surgery designed to alter the form and function of the nose. The nose is the most prominent feature of the face and is critical to overall facial aesthetics. A rhinoplasty procedure alters the form and function of the nose. This is done by altering the shape and size of the bony and cartilaginous components of the nose.
Who is a good candidate for rhinoplasty surgery?
Any healthy individual with concerns about the appearance of their nose is a candidate for rhinoplasty surgery. Specific concerns that can be addressed with a rhinoplasty include:
A wide nose
A narrow nose
A hump or bump on the dorsum of the nose
Thick or bulbous or boxy nasal tips
Excess nasal projection
Insufficient nasal projection
Upturned or downturned nasal tips
Large or disproportionate noses
Crooked noses
Residual issues from previous nasal surgery (secondary rhinoplasty)
Belkyra
Belkyra Injectable is an FDA and Health Canada approved safe injectable substance that is used to reduce and potentially eliminate fat under the chin. The goal is a non-surgical and non-invasive removal of the double chin – bringing back the jawline of years gone by.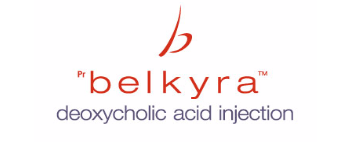 Pre and Post Operative Instructions